Celebrate America Creative Writing Contest!

The American Immigration Council is proud to sponsor the annual Celebrate America Fifth Grade Creative Writing Contest. The contest inspires educators to bring U.S. Immigration history and lessons into their classrooms and gives fifth graders the opportunity to explore America as a nation of immigrants.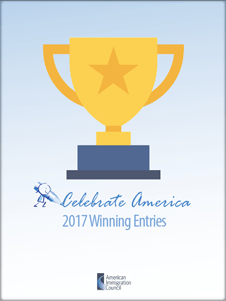 5th Grade writers use the theme "Why I am Glad America is a Nation of Immigrants" to discuss their personal immigration experiences, learn about and share family histories or write about the broader questions of the challenges facing immigrants in a new land. Students enter their work in local contests which are sponsored by chapters of the American Immigration Lawyers Association (AILA). Each chapter forwards the local winning entry to the National Competition where entries are reviewed by a distinguished panel including U.S. senators, award-winning authors and noted journalists.
The national contest winner and her or his parents/guardians will attend a national event hosted by the American Immigration Council.
For this year's flyer, click here!
---
The office of Rodriguez & Moretzsohn has encouraged different schools in the area in the years 2016 and 2017 to participate in this contest, including Windsor Park Elementary, Incarnate Word Academy, and St. Patrick Catholic School. If you are interested in participating in this contest, feel free to contact our office!